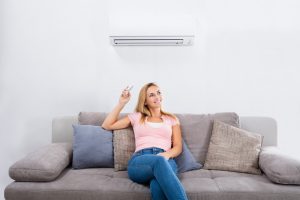 If you own a ductless system, you are well aware of the benefits: it's versatile, highly efficient, and super effective at providing year-round comfort. Today, ductless systems are among the most popular options for home heating and cooling, as more and more homeowners recognize their ability to eliminate the inefficiencies associated with traditional forced-air heating systems.
As efficient and effective as they are, ductless systems come with their own set of unique needs. In no way are we trying to discourage you from installing a ductless system, as we fully install and service these systems. However, it is important to understand the potential implications of any home heating or cooling system that you purchase, as each requires individualized attention. In this week's blog, we will be stressing the importance of professional ductless HVAC services in Cedar Park, TX. Keep reading below to learn more. 
What Is a Ductless System?
Unlike traditional forced air systems, ductless systems do not rely on a network of ducts to cool or heat your home. Instead, ductless systems use an outdoor condenser unit that is attached via refrigerant lines to multiple indoor air handlers.
Rather than generating heat, a ductless system relies on refrigerant to transfer heat from one place to another. A reversing valve allows homeowners to reverse the flow of refrigerant, granting them the ability to switch from "cooling mode" to "heating mode" depending on the time of year.
Unique Repair Needs
If you own a ductless system, it is important to be aware of the following:
Water leaks behind the air handlers: Each of the wall-mounted air handlers is connected to the outdoor condenser unit via a power line, a refrigerant line, and a condensate line. The condensate line is responsible for removing water moisture during the cooling process so that it does not enter your home. If this line leaks, water starts to collect between the back of the air handler and the wall. If this goes unnoticed, the wall can weaken and the air handler fall.
Broken air handlers: When one of your air handlers breaks, you can certainly expect a lack of air in the part of the home where it is located. Although it will need to be repaired, you won't have to worry too much! One of the benefits of a ductless system is that even when one air handler breaks, you can still enjoy heated or cooled air in other parts of your home.
Leaking refrigerant lines: A leaky refrigerant line is a common problem faced by air conditioners and heat pumps alike. However, there is a higher chance of it occurring with a ductless system, as there are multiple lines running throughout your home. If you notice a drop in heating or cooling power, icing over the air handlers, or a hissing noise, schedule repairs ASAP.
Be sure to schedule your ductless heating repair with a professional. Only a professional technician can accurately diagnose and resolve your problem.