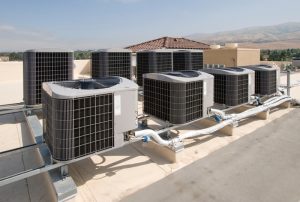 With temperatures already soaring toward the hundreds and with spring nearing its end, the time to talk about commercial air conditioning maintenance is now. Scheduling routine HVAC maintenance for your business is the best way to care for your cooling system (and heating system, when winter rolls back around). It helps you avoid major repairs, saves energy, and improves equipment life—all of which helps you focus on your bottom line rather than worrying about maintaining building comfort.
Maintenance sessions, also referred to as tune-ups, are vital for residential spaces, but are even more important for commercial buildings, no matter their size or function. Efficient and effective air conditioning manages the comfort of employees, customers, clients, tenants, and/or guests. It's also often responsible for protecting equipment from overheating, like your computer systems. In a residential space, you only need to worry about the comfort of a few, while in a commercial setting you have more responsibility.
Don't Let Maintenance Get Away from You
We understand, because we too run a business. You're busy! You have plenty to deal with each and every day. Scheduling service that you don't need immediately might seem unreasonable. Maybe even a waste of your time or money. We urge you to reconsider this, however, since tune-ups are about a lot more than solving a current issue—they are necessary for preventing further issues.
Generally speaking, commercial HVAC tune-ups take about 1 to 2 hours per unit. However, if you have a packaged or rooftop unit, you won't need to worry about us being in your way or causing any kind of business interruption while we care for your commercial cooling system. During maintenance, our experts will comprehensively clean and adjust the inside of your system and thoroughly inspect it for any pending or potential future problems. This inspection includes:
Ensuring your air filters aren't too clogged up (you should be changing these on your own every 1 to 3 months).
Lubricating any moving parts to make sure they work as they should.
Ensuring the safety of your equipment and the commercial space it's installed in.
Tightening electrical connections and checking on the refrigerant charge.
Thoroughly checking rooftop units for any signs of damage or wear.
If we encounter any components in need of repair in order to fend off a worsening problem or decline in system effectiveness, we'll let you know right away so that you can arrange for the necessary service appointment to get that managed. This brings us to our follow-up tip:
Don't Delay Repairs!
Let's say we discover a problem such as low refrigerant. This indicates that you have a leak, which must be located and repaired to prevent your system from suffering. It simply can't do its job effectively without the right refrigerant charge, and as a result your commercial cooling system will work much harder than it should have to in order to do its job. This puts strain on the system and can cause it to break down much earlier than it would have otherwise.
Contact Roznovak's Services today for quality residential and commercial HVAC services throughout Austin and beyond!