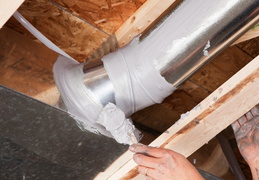 If you're like most homeowners, you don't think about the air ducts snaking their way through your home very much—and that's all right. They're hidden from view for a reason, after all. You shouldn't have to think about the condition of your ductwork too often, so long as it was professionally installed. From time to time, however, even with diligent care, they'll require a little attention.
While you might not need to know all the ins and outs of your ductwork, there're a few things we think you should be aware of when it comes to the quality and efficiency of the air traveling through them. Professional Austin, TX duct cleaning, for instance, is a way to clear out your ducts. There are a few reasons to trust a professional with this job, which we've covered below.
1. It Will Improve Your Indoor Air Quality
The main reason homeowners schedule professional ductwork cleaning is to improve their overall indoor air quality. True, your HVAC systems have air filters. In fact, you might even have additional indoor air quality equipment in place. However, the filters that came standard with your HVAC systems are there to protect the systems. Other indoor air quality systems are installed at the return duct, where air first enters the system, leaving the rest of your air ducts pretty much unprotected.
Dirt and debris—including allergens, irritants, and germs—can infiltrate your ductwork through various means. This might include cracks in the air ducts, gaps in the vents, or even simply from years of the ducts sitting untouched. Professional duct cleaning requires a trained technician to completely suction out this debris, effectively eliminating many allergens and germs.
2. Your HVAC Systems Will Work Better
As we mentioned above, the air filters in your HVAC system are there to protect the system itself. This is because if debris gets in, it can interfere with the functionality of your air conditioner or forced-air heater. The most efficient AC and heating systems cool or heat the air and then blow it back out to the rooms of the home via the most direct route through your ducts. Dirty ductwork can cause friction, which negatively affects cooling (or heating) power.
If your ductwork is dirty, you might actually be paying more for your heating and air conditioning. Even worse, there's a high probability that your ducts can have major leaks you don't know about, and you might need a professional to assess whether the ductwork actually requires replacement, something that can be accomplished during your duct cleaning appointment.
3. Doing It Yourself or Trusting an Amateur Can Hurt More Than Help
As far as attempting to service a portion of your ductwork, this is a job that should be left to the pros. You air ducts are vulnerable to tears and other types of breaches if not handled correctly, and you could end up wasting significant energy as a result.
Trusting an amateur for your duct cleaning services can be just as bad. Unfortunately, there are a lot of scams out there, and dishonest "professionals" may charge very little for duct cleaning because they're only giving the appearance of working, without actually doing any cleaning—and might also insist that the service be done every year when, in actuality, it's only necessary every few years.
Roznovak's Services is your trusted resource for all HVAC jobs. Contact us today!