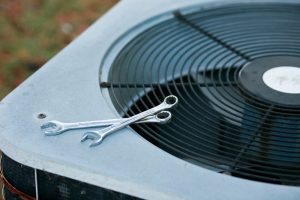 We know, you're probably thinking, "but it's already hot outside!" This is precisely our point, though—with summer temperatures already here, the time to prepare your air conditioner for consistent hot weather, if you haven't done so already, is now! Make sure that your air conditioner is ready to cool down your house, and save you some money while doing it, by keeping the following tips in mind.
Invest in Professional Maintenance
Air conditioners work at their best when they are routinely tuned-up. If you haven't had your system checked within the last year, then scheduling maintenance now is integral in ensuring that its ready to operate and keep you cool all summer long, and beyond.
During your maintenance appointment, our expert technicians will thoroughly clean your system's components, do a comprehensive check of the complete system to ensure that everything is in good shape, make any appropriate adjustments, and make recommendations for repairs.
It's important that if any repairs are suggested, you handle them right away as to avoid a larger—and costlier—emergency later on down the road.
Help Your Cooling System Run More Efficiently
There are a few steps you can take to ease the burden on your air conditioner, particularly during the long and hot summers we experience. For example, you might consider turning your thermostat up a few degrees at night, and when you aren't home so that it won't need to work as hard when it really doesn't need to.
Also, during the day you should close your blinds or drapes, particularly on windows that receive direct sunlight. While you're at it, check to ensure that the weather stripping and insulation in your home is adequate enough to keep heat out and cool, conditioned air in. And then we probably don't have to tell you this last one—but, don't leave windows open during the day. If you're concerned about getting fresh air in your home, you should instead consider a heat recovery or energy recovery ventilator.
Check for Leaks
Particularly, refrigerant. This is something that our professionals will look for when we conduct maintenance on your system. However, it's also something you should always keep an eye out for. The refrigerant in your system is considered the cooling system's "fuel," except that it does not deplete like natural gas or any other type of fuel.
Indeed, if your system is losing refrigerant, it means that you have a leak that needs to be located and repaired. Too much refrigerant loss can lead to a number of operational problems for your air conditioner, and can eventually cause it to shut down completely. If you notice a drop in cooling output, ice on your evaporator coil, or you hear a hissing noise coming from the outdoor unit, you could have a refrigerant leak.
Change Air Filters
The air filter that comes standard with your HVAC system is not there to protect your indoor air quality, as many homeowners believe. Rather, it is there to protect the inside components of your air conditioning system from dirt, dust, and other debris.
Should your air filter become too clogged, you'll have less airflow and your cooling system will have a harder time doing its job—meaning it won't work as effectively or efficiently as you need it to, costing you undue money in the meantime.
For comprehensive air conditioning maintenance in Austin, TX, simply contact Roznovak's Services today.