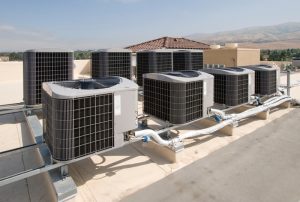 The fact of the matter is, Texas residents don't get much of a reprieve from sweltering temperatures at all—at least, not compared to other parts of the country. But that doesn't mean you should wait for a cooler week to schedule your Hutto, TX commercial air conditioning services. In fact, timely commercial AC maintenance is even more important for businesses in our area than elsewhere, given how reliant we are on these systems.
Scheduling your commercial air conditioning maintenance now means avoiding the most severe of repair troubles, energy waste, and premature system breakdowns. Proper air conditioning care not only affects the comfort for employees, customers, clientele, and/or tenants, but is essential in protecting equipment from overheating and otherwise accumulating damage. Homeowners only need to worry about the comfort of a few people, but as a commercial property owner or business manager, you must concern yourself with the comfort of many.
Why You Should Invest in a Commercial HVAC Maintenance Plan
As a busy commercial property owner or business manager, you have a number of things to deal with on a day-to-day period. As such, it's easy to let it skip your mind that your air conditioner needs a pre-season tune-up. With our maintenance program, you will receive one heating and one cooling visit per year.
During maintenance, our technicians perform a number of important tasks:
Change the air filters. (Remember, this should be done by you every 1 to 3 months to prevent the accumulation of dust and dirt on your system's interior components.)
Lubricate all moving parts to reduce stress on various components.
Perform a safety inspection to ensure that the HVAC system is not hazardous to operate.
Tighten electrical connections.
Check on the refrigerant charge (if you're losing refrigerant, you have a leak that needs repairing).
Calibrate the thermostat to improve temperature precision.
Clean the outdoor and indoor coils to ensure proper cooling operation.
Thoroughly check rooftop units.
Your technicians will inform you if anything needs to be repaired in order to fend off larger problems or improve your system's performance. Scheduling these repairs now gives you some time to beat the worst of the summer heat, and reduces the chance that you'll be stuck without a cooling system in the middle of a hot summer day.
The Benefits of Maintenance
In addition to helping you stay on top of repairs, commercial HVAC maintenance helps your air conditioner operate more smoothly—that is, it works more efficiently. This may not seem like a big deal, but you may be surprised at how much efficiency plays a role in your monthly utility bills.
As a result of this regular care that your air conditioner receives, and assuming you keep up on suggested repairs, you can extend the life of your commercial HVAC system. The average air conditioner lasts about 10 to 15 years, but without maintenance, you can potentially cut this life-cycle in half.
Contact Roznovak's Services today for your professional commercial HVAC needs, and ask about what else our comprehensive maintenance plan includes.