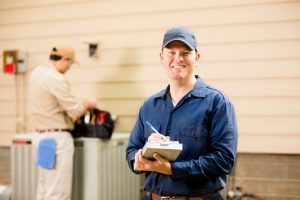 Summer is about to come to a close, though that doesn't typically mean much for Austin residents, who tend to use their cooling systems almost year-round. What it does mean, however, is that now is a good time to assess if your air conditioner is in good shape.
Has it started making clanging noises? Did the blower fan shut off? Does your AC seem to be struggling to provide you with cool air? These are all completely valid reasons to call in a professional Austin, TX HVAC contractor. Of course, you may be tempted to just look up a "how-to" video online and figure it out on your own. But that could be a mistake.
A Malfunctioning AC Requires a Professional Touch
Trying to repair a broken down or malfunctioning air conditioner without the right training and experience to do so could leave you with wasted time, wasted money, and a cooling system that's in worse shape than it was to begin with. The best way to make sure that your AC repairs will last is by trusting in a professionally trained technician to do the job. By doing so, you'll have:
An Accurate Diagnosis: It can often be hard to spot exactly what the problem is with an air conditioner when it malfunctions. For example, if your cooling system's fan has shut off unexpectedly, it could be because you have a burnt-out motor. Or, it could be the result of a failed capacitor. The problem might be a thermostat issue and not even related to the actual AC unit. If you can't even accurately diagnose why a problem has occurred, then you can't make the right repairs.
Safe Handling of Refrigerant: There are many misconceptions around refrigerant. For instance, some homeowners believe that refrigerant is meant to deplete over time (it is not) and should be regularly refilled (recharged). The source of the leak must be found and repaired to ensure the future effectiveness of the system. Plus, handling refrigerant is something that only licensed professionals are legally able to do.
An Upheld Warranty: The warranty on your cooling system is what protects you from having to pay unnecessarily high costs to replace an AC system if it breaks down before its time. Keeping this warranty current requires having professional maintenance done on a regular basis, and making sure that you only trust a licensed HVAC technician for your AC repairs.
The Right Equipment for the Job: Air conditioner repairs require using the right equipment, which isn't readily available to the average consumer. And even if you can get ahold of professional-grade equipment and tools, it takes specialized training to know how to properly—and safely—use it in order to avoid injury and further damage to your cooling system.
A Job Done in Less Time: Trying to fix an air conditioner on your own is almost always going to take longer to do than trusting a professional for the job. Essentially, when you attempt an AC repair on your own, you're very likely going in blind with no idea of the source of your cooling system problems. This lack of experience and training will result in a longer project, too, and if you're in the middle of one of the hottest days of the year, we'd imagine that you don't want to waste any time in hopes that your AC issue will be resolved for good.
Contact Roznovak's Services today for quality professional HVAC services throughout Austin and the surrounding communities.