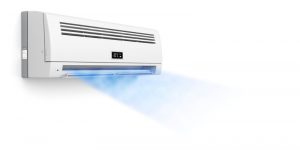 As summer draws nearer, it's perfectly acceptable to get excited about all the things you have to look forward to: tanning, ice cream, barbecues, and most importantly, your visit with your local HVAC contractor. Of course, summer here in Texas can be quite hot, and if you currently own a less-than-great air conditioning system, now might just be the best time to consider a replacement. Surely, you'll want to invest in a highly efficient and effective system and therefore, a heat pump might just be the system for you!
Heat pumps are becoming quite popular among homeowners for their ability to provide year-round comfort with just the flip of a switch. In fact, there are plenty of reasons to make the switch to a heat pump, and below, we have outlined just some of the many reasons for you. Keep reading to find out more!
Wait, What Exactly is a Heat Pump?
Think of it like this: A heat pump works just like an air conditioner, but with one exception: the reversing valve.
Simply put, a heat pump utilizes the flow of refrigerant to transfer heat from one place to another, much like a standard air conditioner. However, the reversing valve allows you to reverse the flow of refrigerant in order to effectively heat your home.
What Are the Benefits?
There are numerous advantages of installing a heat pump in your home, including:
Efficiency
Perhaps the most important advantage of installing a heat pump is energy efficiency. These systems are highly efficient, as they do not generate their own heat but rather move it from one place to another. Because of this, you won't have to worry so much about costly repairs and expensive energy bills.
Versatility
With just the flip of a switch, you can both heat and cool your home! A heat pump is the most versatile system on the market, which is why they've become so popular. The reversing valve is what allows you to switch between "heating mode" and "cooling mode."
Cost
When you install a heat pump in your home, you won't have to worry about the cost of maintaining two different HVAC systems. A heat pump eliminates the need for both a heater and an air conditioner. Additionally, the need for heat pump repair in Austin, TX is less likely, as heat pumps have fewer moving parts than traditional forced-air systems.
Comfort
A heat pump allows for comfort year-round. You can trust your heat pump to keep you warm and toasty in the winter and nice and cool in the summer. Additionally, heat pumps run in longer cycles than other systems, which allows them to dehumidify the air more than a traditional AC would, which in turn helps the system to cool your home more effectively.
What Are YOU Waiting For?
If you are in the market for a new heater or air conditioner this year, do not hesitate to contact one of our professionals. We can match you with the right system and ensure that it is a good fit for your home.
To learn more about the benefits of a heat pump, or to get started, contact the team at Roznovak's Services, Inc. today!