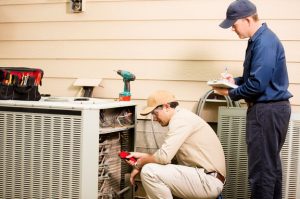 Today's air conditioning systems are far more energy efficient than those of even just a couple decades ago. However, they can only work well if they are properly installed from the start. Without professional Georgetown, TX air conditioner installation, your system can't possibly be expected to perform as well as it's meant to.
This means that you could very well find yourself investing in costly repairs down the road that otherwise wouldn't have been necessary. You could even be facing a premature system replacement. A professional installation involves determining cooling loads, helping you select the best model of AC system for your specific home and needs, and many other considerations.  
Size Matters
Air conditioning systems come in a variety of sizes, specifically designed for each individual property it is meant to be installed in. Choosing the right size air conditioner is one of the first and most important steps you want to take in ensuring that you get a system that can truly perform well.
If you purchase too large of a system, it will shut on and off rapidly—a process called short-cycling—as it is reaching your desired temperature too quickly. On the other hand, if your system is too small it can't possibly attain your desired temperature, and therefore will keep running—an inefficient and costly problem.
To determine the right size AC system for your living space, our HVAC technicians will perform what's called a cooling load calculation. This is the measurement of the amount of heat energy that needs to be removed from the space where the air conditioner is being installed, in order to maintain your desired temperature.
More about Cooling Loads
Cooling loads will vary by room. Therefore, the output from both your cooling system and your heating system need to be correctly matched to your home's size, among other factors. These other factors include ceiling height, how many windows or doors you have, and how energy-efficient those windows and doors are.
In order to provide you with an air conditioning system that will give you the best performance for your space throughout its intended lifecycle, our HVAC professionals must accurately determine cooling loads, and thus the size AC system that your home requires. Fortunately, we have many years of training and experience behind us to give us the ability to do all of this.
Prevent Inadequate Airflow
Another factor that you risk with amateur AC installation is improper airflow. This can be caused by leaky air ducts or blockages within the AC system. This means that only a part of the air getting pushed through your air conditioner is actually reaching your home, which makes your system work harder and longer than it should have to.
Ensuring that your air conditioner is professionally installed—and serviced—will provide you with optimal comfort for the years to come. You'll be able to rely on a long lifespan and high efficiency from your air conditioner that will combat the high temperatures we know so well!
Turn to Roznovak's Services for your air conditioner installation. Contact us today to set up your appointment!