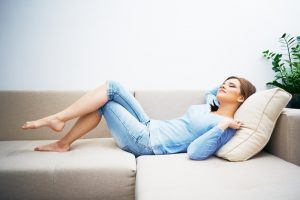 In previous weeks, we've talked a lot about air conditioners—when to replace your system, what certain system noises mean, and why an air conditioner might quit cooling. But the functionality of your HVAC system is not the only contributor to your Round Rock, TX indoor air quality.
Issues such as humidity, dust accumulation, and germ exposure can affect your household atmosphere just as much as the temperature does—if not more. Installing the right indoor air quality products can make all the difference in your home comfort. What your home requires is dependent on a few factors, but we'd like to go over a few options we provide to help you make an educated decision about how best to protect the quality of your indoor air.
Balance Your Humidity
We tend to feel the most comfortable when the relative humidity levels in our homes rest between 30%–50%. If it drops below that, skin becomes dry and cracked, plus illnesses can spread more quickly and easily through a household.
When humidity levels increase to above 50%, you'll have the opposite problem: you won't be able to cool off since your sweat isn't able to evaporate off your skin. Plus, your air conditioner will have to work harder to do its job—and that's an awful waste of energy!
The solution is the installation of a whole-house humidifier for your winter woes and a dehumidifier for the summer heat.
Battle Germs
Germs are an issue no matter where you go—and your home is no exception. But did you know there are steps you can take to reduce your exposure to germs? When it comes to your indoor air, there are a number of air purification options you can look into.
For example, have you ever considered a UV air purifier? Integrated directly into your HVAC system, the UV lights from this device are completely harmless to humans and pets. However, they are deadly to harmful bacteria and microorganisms, such as mold and mildew—particles that thrive in cool, damp spaces such as your ductwork.
Tackle Dust and Dirt
The air filter that comes standard with your HVAC system is not enough to cleanse your indoor air. In fact, it's not even intended for that purpose. Instead, it is there to protect the inside components of your heating and cooling systems from dirt, dust, and other debris.
In order to adequately protect your indoor air quality from the buildup of dust and dirt, you'd do well to consider a whole-house air filtration system. With the right filtration system for your home, you can help remove 99% of the particles that lead to poor indoor air quality: dust, dirt, pollen, dander, hair, dust mites, and even construction debris, all of which can significantly affect the health of those with allergies and asthma.
Though temperatures are pretty warm year-round in our area, now is the ideal time to consider installing these indoor air quality products. As summer approaches and the weather heats up to its peak, HVAC technicians will be busier with service calls and potential emergencies.
To learn more about how you can improve the indoor air quality in your home, reach out to Roznovak's Services today!