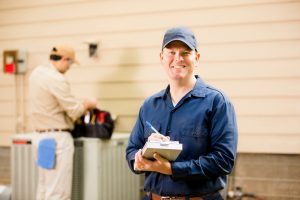 No matter what type of work you're having done on your home, it's essential that you know the person coming to do the job is highly experienced and qualified to be there. When it comes to hiring an Austin, TX HVAC Contractor, there is no exception. Your HVAC systems take up about 50% of all your energy use in the home, so you want to make sure they're working as efficiently as possible. The only way to make sure this is the case is by having a professional service it.
But it's equally important to remember that just because an HVAC professional seems popular, or the company is cheap, doesn't mean that they are the right contractor for the job you need done. It's essential to do your homework and make sure that the HVAC contractor you choose is the right fit for you and your household. Keep reading to learn about the qualities you should look for in a professional HVAC contractor.
The Right Credentials
It's a good idea to ask the HVAC professionals who plan to do work in your home for their business license and insurance info. Don't assume that just because they're in a uniform and drive a commercial truck that they have what it takes to conduct professional installations, repairs, and maintenance on your HVAC systems.
It's also a wise idea to double check with your local licensing office to make sure that the company you're choosing has an up-to-date license. Verifying this, as well as if their insurance policy is up-to-date as well, is a good way to give you the peace of mind that you're covered in the event that something unexpectedly goes wrong.
Professional Training
It's important to ask any prospective service technicians what type of training they've had. Most companies, including ours, require a technical degree from a vocational school. These programs hone in on the latest advances and technology in HVAC, EPA regulations, and standard repairs and maintenance.
They should also be familiar with your existing HVAC system if you need to have work done on it, particularly if you need any components replaced. Your technicians should be qualified to service the brand.
Able to Give Written Estimate
It's vital that your HVAC contractor give you a written estimate before beginning any work, so you know what to expect and aren't faced with any surprises later on. It's not enough to just have a verbal agreement!
Another thing you'll want to keep in mind is that while it's not rare to require a deposit on larger projects, your HVAC contractor should never ask you to pay for the whole job up front.
Solid Reviews
Finally, there isn't a much better indicator of good service than if previous customers have good things to say about a company. Check your potential HVAC contractor's customer reviews to see what people are saying. Typically, if a company has a decent reputation in your area, you're going to see that in the reviews. Another suggestion is to check on what people are saying is to take a look at reviews with the BBB (Better Business Bureau).
Roznovak's Services has all of these qualities and more. Contact us today for exceptional HVAC installations, replacements, repairs and maintenance.