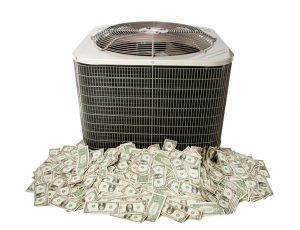 The heat of late summer can put a strain on your air conditioner, and subsequently, on your pocket book. Just because you rely more on your air conditioner during these double and triple digit Austin summer months does not mean your bills need to so drastically increase. You can use these tricks and tips to ensure that your air conditioner remains efficient all summer long.
Increasing the Temperature on Your Thermostat
This is one tip you have probably heard before—and that is because its really works! If you increase your thermostat setting by just a few degrees in the summer, it can help you save a large amount in monthly energy costs, as much as 25%.
Schedule Routine Maintenance
Having a professional come out to your house and perform routine maintenance on the AC system will help your air conditioner perform well in the face of the late summer heat. A quick maintenance appointment will check essential system functions and perform easy alternations that will greatly benefit thesystem. Our team here at Roznovak's Services Inc. can thoroughly service your AC unit. We even offer an annual maintenance program you can enroll in so you never forget an essential service appointment.
Make Sure All Room Vents Are Clear
If there is anything blocking the airflow coming from the room vents, this is decreasing the efficiency of your system. Make sure there aren't any items like furniture, light fixtures, or curtains blocking the flow from your vents. Additionally, try sweeping or vacuuming in front of vents around your home. Clearing dust and debris can help increase airflow through a home.
Consider the Position of Your Unit
Make sure your AC is in a cool, dry, and well-ventilated area. Shade is probably the most important factor when considering efficiency. Don't place your AC in an area that's constantly in the sun—it will make it a lot harder to cool your home. Keeping your outdoor unit in a shaded place will make it much easier for the unit to perform its job because it won't have to battle its own internal temperature in addition to the scorching Texas heat.
Keeping Your Curtains and Blinds Closed
Keeping your home dark during the day will lower the temperature in your home. Just like the right position of an outdoor unit eliminates strain on the system, keeping your blinds closed will ensure that the sunshine isn't adding extra stress to a system. This will help relieve some of the work your AC system has to do. It also allows the unit to function while the thermostat runs at a higher temperature.
Signs of a Deeper Problem
If you try these tips and they don't seem to work for you, it might be indicative of a deeper issue with the AC system. You can schedule an appointment with our amazing team at Roznovak's Service Inc. and we can perform an air conditioning service in Austin, TX.